Stanford Bound: Q&A with Melody F.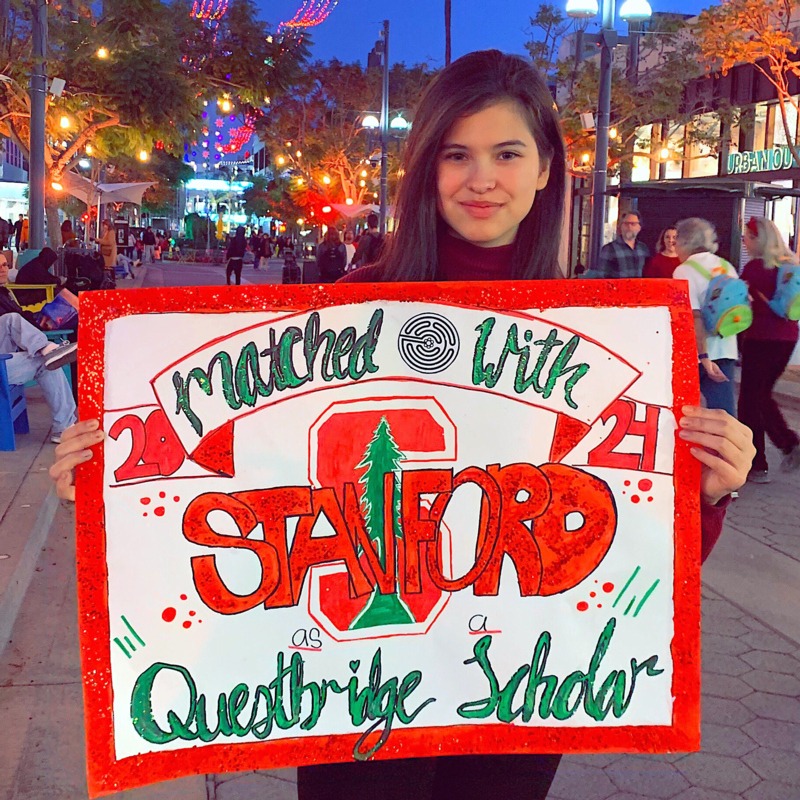 Stanford Bound: A Bright Star Student's Story

In December 2019, Bright Star student Melody, a senior at Rise Kohyang High School, found out she'd been accepted to Stanford University as a QuestBridge Scholar, with a full, four-year scholarship from the university worth over $300,000! Read the press release here.

To say the least, Melody is thrilled, as are all of us at Bright Star. Melody will be the first QuestBridge scholarship recipient -- a scholarship that recognizes high-achieving students from low-income families -- from Bright Star Schools.

Melody has had her eye on Stanford ever since she was in 7th grade at Rise Kohyang Middle School and made a vision board with her college dreams on it. And for the past six years, she's been working extremely hard to realize her college dreams. We pulled Melody out of her AP Calculus class for a few minutes so we could hear from her directly.

Bright Star Schools: What was it like to find out you got accepted into Stanford as a QuestBridge scholar with a full scholarship?!
Melody: I got the email two days ago, but I didn't open it until yesterday because I thought I'd been rejected! QuestBridge sent an email that said my application had been updated. Before I logged on, I told myself "whatever happens, happens." I put a show on in the background so that if I was rejected, I could just immediately go back to watching the show so that I'd feel better.
I logged into my account, clicked through to the update, and opened it. The first word was "congratulations," and I was thinking, "They don't say congratulations if you've been rejected!" I saw that I had been accepted into Stanford and I started screaming. My mom came running in, she thought I was dying!
I held up my laptop and was crying, and the show was still playing in the background. I told her I got a full scholarship to Stanford, and she said, "I knew you were going to get in." She hugged me for three minutes, and my dad was there watching and smiling.
I was bawling. This is everything I've worked for. Getting into college, making my parents proud, and moving my life forward. Even if I didn't get into my dream school it would have been okay.

Bright Star: But you did get into your dream school! How did Stanford become your dream school?
Melody: When I was in fifth grade, I learned about college, and I wanted to go to Stanford. While I was a seventh grader at Rise Kohyang Middle School, I made a vision board that showed me going to Stanford or an Ivy League. I made it a mission to get into one of those schools. They were the schools I wanted to get into because I knew they'd provide me with the best education. Going to one is something I wanted for a really long time.
In seventh grade, I started getting competitive in school. I wanted to do the best that I could. I realized that middle school is only for so much time, and I wanted to make the best of it.

Bright Star: How do you keep yourself motivated and maintain focus? You've been working hard for a lot of years.
Melody: I've always considered myself a competitive person. I have the mentality that if you're going to do something, why not do it the best that you can.
I'm so blessed with the best parents. They don't pressure me at all. They do so much for me and they just want me to be happy. They'd be happy with wherever I go.
Because I'm so blessed, I'm going to make something of myself. Because God has given me so much, and that's the main thing. I want to give back to my community and my world. I want to make a difference, and that pushes me forward. I want to see a brighter future.
I would say to other students: the school you go to doesn't matter. It's the student who matters. You could go to the best private school in the world, you could have all of the resources you want, but if the student isn't motivated and doesn't have a vision, then they may not reach their goals.
If you have the motivation, the drive, and the grit to see the vision and keep pushing for your goals and keep trying, you'll reach something.

Bright Star: What subjects do you enjoy the most? What do you want to study at Stanford?
Melody: I love English. Language is so powerful. Being able to shift and change your phrasing so that what you say means something else, you can change society. It's unimaginable the power of a pen.
In middle school I started writing fan fiction, and I wrote about that in my college apps. I've written six fanfiction stories, two novels, and I have over 200,000 followers. People write me comments. I love hearing from them and writing back to them.
I'm also interested in the sciences, in business, and how our world and society works. I'm passionate about a lot of things.
I'm also going to write a novel about self-help and helping other people. My goal is to be a motivational speaker. But I need a platform and to make something of myself first before I can inspire others. I want to live life to the fullest. If I can help others and be of service, that's my goal in life.
People tend to rise to the expectations they're put to. Even if you don't have a good support system, have to visualize yourself in the position you want to be in. If you set standards, you'll push yourself to reach them. Even if something doesn't work out, you always have options. Set high standards and you'll be able to do anything.