NEWS: Student Awarded $300K Scholarship
FOR IMMEDIATE RELEASE
January 2020
Contact: info@brightstarschools.org
TOP BRIGHT STAR SCHOOLS STUDENT RECEIVES EARLY ADMISSION TO STANFORD UNIVERSITY AS A QUESTBRIDGE SCHOLAR AND A $300,000 SCHOLARSHIP

High school senior, Melody Fuentes, is one of 1,127 high-achieving students from low-income families nationwide to be selected as a QuestBridge scholar

LOS ANGELES, CA -- Today, Bright Star Schools, a network of high-performing, tuition-free charter public schools across three communities in Los Angeles -- West Adams/Baldwin Village, Koreatown, and the San Fernando Valley -- announced that one of its top students, Melody Fuentes, a senior at Rise Kohyang High School, has received admission to Stanford University through QuestBridge (https://www.questbridge.org/) and a scholarship from the university worth over $300,000. From nearly 15,000 applicants, 1,127 outstanding, high-achieving students from low-income backgrounds were selected as this year's QuestBridge Match Scholarship Recipients.

"Melody Fuentes has been a top student at both Bright Star's Rise Kohyang Middle School and Rise Kohyang High School," said Dr. Eliza KimLy, Head of Schools for Bright Star's Koreatown cluster of K-12 schools and principal of Rise Kohyang Middle School. "The co-valedictorian of her middle school class, Melody has continued to thrive and achieve in high school. We are all extremely proud of Melody and it is no surprise to us that she accomplished her dream of gaining acceptance to Stanford University. This is just the beginning for her!"

In seventh grade at Rise Kohyang Middle School, immersed in Bright Star's higher-education focused culture, Melody set a goal for herself to gain admission to Stanford University or an Ivy League university. At Rise Kohyang High School, Bright Star ensured she had access to the academics and opportunities to realize her dream -- including Advanced Placement (AP) courses beginning in ninth grade -- and Melody worked extremely hard to succeed.

"Gaining acceptance to Stanford University as a QuestBridge Scholar is everything I've worked for," Melody said in an interview with Bright Star.. "Getting into college, making my parents proud, and moving my life forward."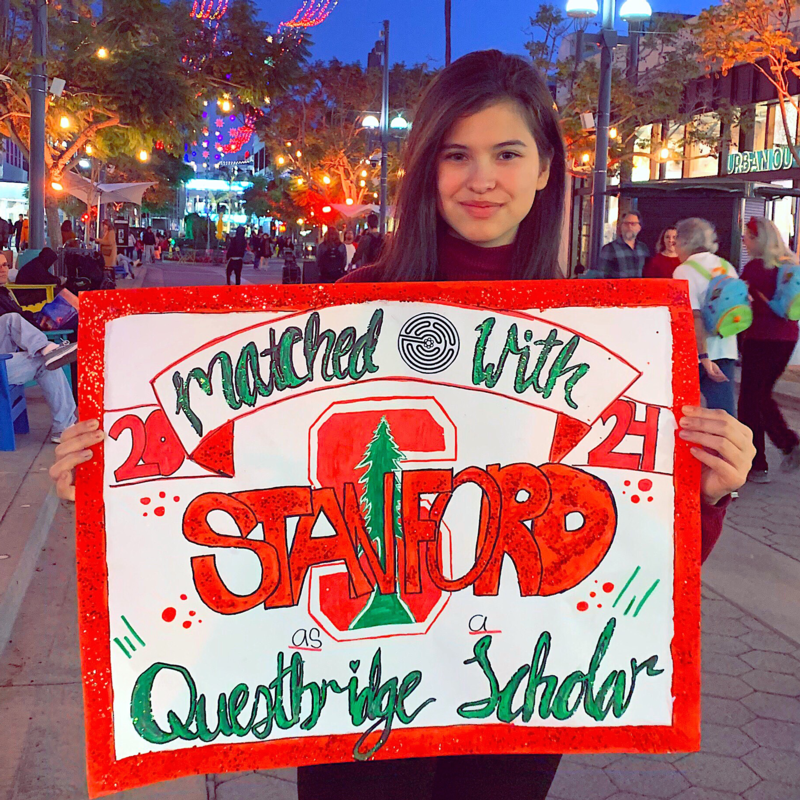 Bright Star Schools focuses on rigorous academics, rich life experiences beyond the classroom, and holistic support to ensure all students thrive. The majority (90 percent) of Bright Star's students are growing up in low-income communities, and the opportunities Bright Star provides can be life-changing.

"Bright Star Schools' vision is for our students to become leaders who act with integrity and champion equity to enrich our communities and the world," said Hrag Hamalian, Executive Director for Bright Star Schools. "Melody's determination and resilience demonstrate what is possible for all students from all backgrounds to achieve when they have the opportunities and support to thrive. We are proud of Melody and thrilled that she has been recognized for her academic achievements and her community leadership both by QuestBridge and Stanford University."

Bright Star's Rise Kohyang High School offers Advanced Placement (AP) classes starting in the ninth grade, and over half of the school's students participate in AP classes. In 2019, 72% of the high school's students (grades nine through 12) passed at least one AP exam.

In June 2020, Rise Kohyang High School graduates its founding class. Along with all Bright Star alumni, Rise Kohyang High School graduates will receive up to six years of individualized support from Bright Star to ensure they succeed in and graduate from higher education.

Bright Star Schools also operates three schools in the West Adams/Baldwin Village community of Los Angeles: Stella Elementary Charter Academy, Stella Middle Charter Academy, and Bright Star Secondary Charter Academy. In the San Fernando Valley, Bright Star operates Valor Academy Elementary School, Valor Academy Middle School, and Valor Academy High School.

# # #

About Bright Star Schools
In nine, tuition-free public charter schools across three communities in Los Angeles (West Adams/Baldwin Village, Koreatown, and the San Fernando Valley), Bright Star Schools' 3,000+ students experience rigorous academics, inclusive education, social-emotional support, and rich life opportunities beyond the classroom from transitional kindergarten through 12th grade and up to six years of higher education support.
More information is available at www.brightstarschools.org.