Marni Parsons Honored by MSMF

Marni Parsons, Bright Star's Vice President of Student & Family Services, Awarded the 2021 Matt's Hero Award by the Matthew Silverman Memorial Foundation

Every year, the Matthew Silverman Memorial Foundation, a nonprofit organization that provides mental health programs for teens and young adults throughout the country with the goal of preventing suicide, honors someone in the community who is making great strides in mental health and suicide prevention. In 2021, they selected Marni Parsons, Vice President of Student and Family Services for Bright Star Schools.
For nearly a decade, Marni has made a significant impact at Bright Star, where she works with our school counselors, educators, and parents on issues relevant to child and adolescent development, youth mental health, social-emotional learning, and equity and inclusion to create balanced and harmonious environments so that our students thrive. She brings nearly 30 years of experience and expertise to support our 3,500+ students and their families, and she's made a big difference in the lives of our students, families, and staff.
We're proud that Marni's work and dedication has been recognized by the Matthew Silverman Memorial Foundation, and we're incredibly grateful for all she does every day to support Bright Star's students and their families.
We chatted with Marni about why mental health work is so critical for schools, how schools can support students' mental health after the pandemic, why we need to reframe "learning loss," and more.

Bright Star: Congratulations on being recognized by the Matthew Silverman Memorial Foundation! What does this award mean to you?
Marni Parsons: I am humbled to receive this award from the Matthew Silverman Memorial Foundation. They've been a Bright Star partner for many years, and they're deeply committed to supporting students' mental health.
There are so many people doing the difficult work to reduce the stigma associated with mental health issues and prevent suicide. Our work is critical, and yet we may never know the impact we have made on a young person or their family. This award is a reflection of that work.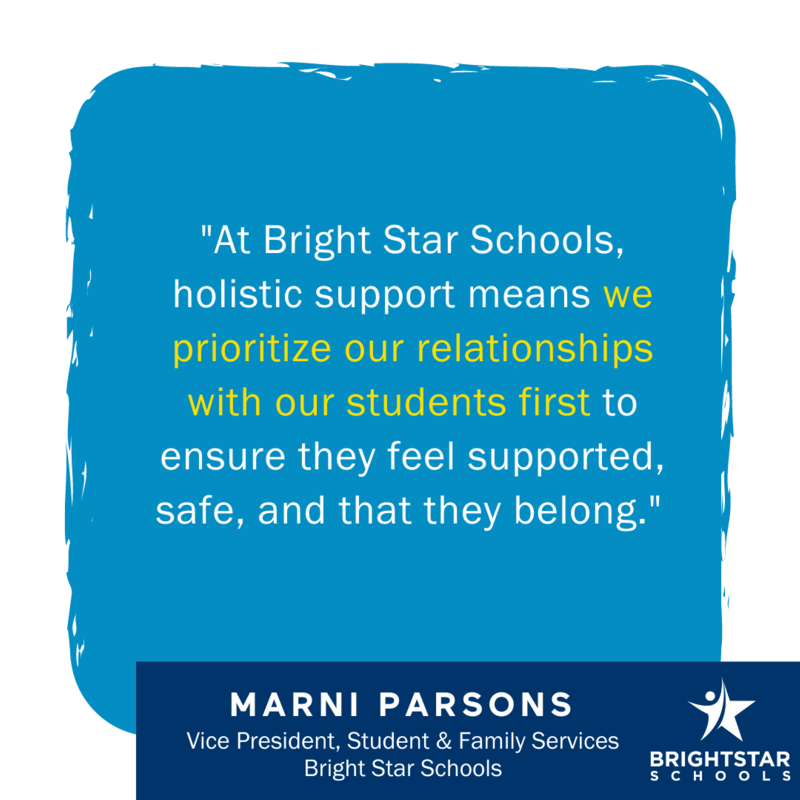 Bright Star: In the past decade, you've led robust, inclusive support for our students at Bright Star Schools, including counseling support for students in all grades and mental health support. Can you tell us more about what that work looks like at Bright Star and why it's critical?
Marni Parsons: At Bright Star, when we talk about holistic support for our students, we mean knowing the whole child and what they may be going through. It means we prioritize our relationships with our students first to ensure they feel supported, safe, and that they belong. When the relationships are in place first, then our students are ready to learn.
At all of Bright Star's campuses, from elementary schools to middle schools to high schools, our students receive support from a counselor and social emotional learning.
Our counselors have a small caseload with an average of 120 students. By comparison, the average counselor caseload in California is 612 students. At Bright Star, we prioritize small caseloads for our counselors so that all of our students, from kindergarten through high school, have someone who knows them and their family, knows their needs, and can advocate for them.
In this school year alone, our counselors have provided over 1 million counseling minutes to our students and families. They have done an incredible job continuing to reach out and access students in very creative ways during the pandemic.
Our schools also offer robust family engagement programs that explore the developmental issues that children and youth face, including mental health, sexual health, drug awareness, social emotional learning, positive parenting classes, and more. These programs are essential to the healthy development of our children and youth, and they are mission-critical to our work at Bright Star.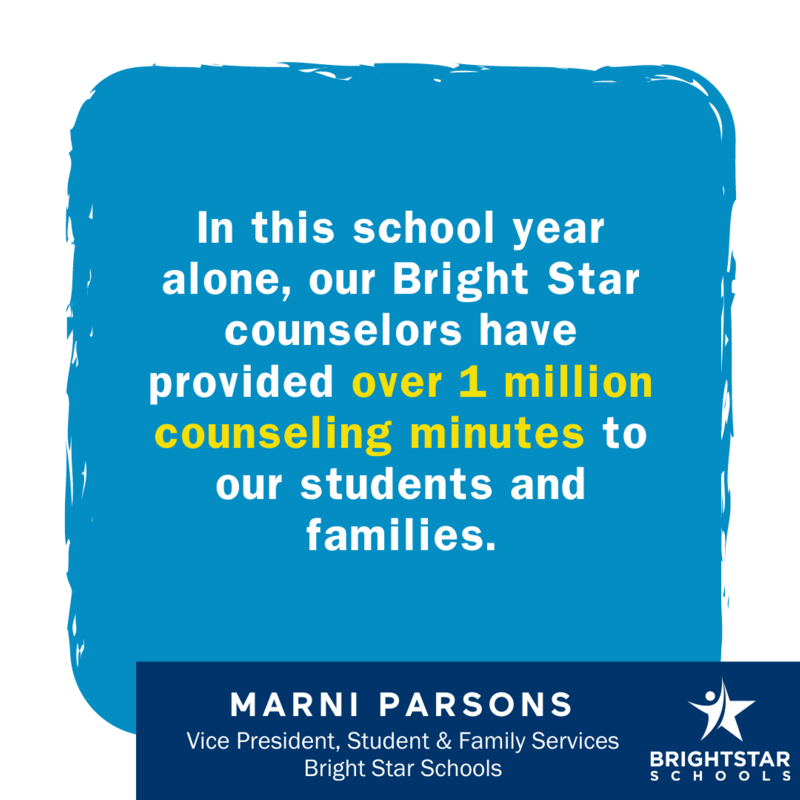 Bright Star: You've also developed many partnerships with community-based organizations to broaden the support we can provide. Why are partnerships critical to support students' and families' mental health?
Marni Parsons: At Bright Star, all of our school counselors are trained to recognize our students' mental health needs, but most are not trained in intensive clinical therapy. So our partnerships with community organizations are essential to provide therapy services beyond what we provide in our schools.
Through partners such as the Matthew Silverman Memorial Foundation, Didi Hirsch, The Phoenix House, Antioch University LA, The Sunshine Counseling Center, and Hathaway Sycamore we're able to provide school-based mental health support, as well as substance abuse prevention programs with Insight Treatment Centers and The Phoenix House.
We do everything we can to meet our students' and families' needs and to reduce barriers to accessing mental health support.

Bright Star: What do the partnerships look like for schools?
Marni Parsons: At Bright Star, our partnership with the Matthew Silverman Memorial Foundation began with a speaker series and has grown to include mental health curriculum and training for our staff. We've trained all of our Bright Star high school counselors in Ross Szabo's "Behind Happy Faces" mental health curriculum to ensure that all Bright Star students participate at least once before they graduate.
Most recently, with support from the Matthew Silverman Memorial Foundation we've used an evidence-based program, MindWise's SOS Signs of Suicide, which was intended to be an in-person facilitation. Because of COVID, the program was pivoted to a virtual space, and we piloted it with groups of students in our middle schools and high schools. One of our high schools, Bright Star Secondary Charter Academy, was able to provide the program to all of their seniors, and now our seniors have had that in-depth curriculum before they graduate.
The Foundation has been an amazing partner, and we jump on the opportunities they share with us so that we can support our students' mental health and well-being.

Bright Star: For many people, the pandemic has had a negative impact on their mental health. How did you ramp up your support of Bright Star's students and families during an incredibly difficult time?
Marni Parsons: Every year we do family needs assessments and student surveys so that we can most effectively support our students. During Covid, these assessments and surveys were critical to help us understand what our families were going through when our school campuses were closed.
At Bright Star, we provided a Chromebook for every student so that students and families would have access to distance learning and the support we provide. In our assessments, we asked directly about students' and families' mental health needs, along with questions about food and housing insecurities. Our families were very open and honest in saying where they or their students needed help. We connected families to community resources to meet their needs and help them through this very difficult time.
During distance learning, we continued to address the mental health of our students by providing time for explicit instruction on social emotional learning, time to connect with teachers and counselors in online groups, virtual student assemblies, and facilitating Signs of Suicide curriculum to our middle and high school students, which was provided to us by the generosity of the Matthew Silverman Memorial Foundation.

Bright Star: We know the effects of the pandemic on mental health will likely linger for many of us. Will the support Bright Star offers students and families look different moving forward?
Marni Parsons: Absolutely! Even before the pandemic, research was showing mental health issues and suicide have been on the rise. Now, as students return to school, all schools need to be ready to provide increased mental health support.
To support our students and families, at Bright Star we're doubling down on our efforts to build community partnerships for mental health resources, we're working with more organizations to get more therapists at our schools, and we're exploring the possibility of adding social workers to some of our campuses so that we have staff who are dedicated to helping students and families navigate housing instability, food insecurity, mental health support, and so much more.
The silver lining in this pandemic has been that it has shed light on the need for schools to address these mental health issues with robust support and programming. At Bright Star, while we have been increasing the support we provide students for the past several years, I believe we have been able to build even greater capacity and be creative about how to implement programming through the use of technology and the use of social media.
The truth is, we don't know what to expect in terms of student needs when they are back on our campuses in the fall. But we'll be ready to support them, and we realize that our holistic approach to supporting our students is more important than ever.

Bright Star: What guidance do you have for other schools on how they can best support their students' mental health needs?
Marni Parsons: Some critical steps for schools to take are (1) to survey students and families to capture key information about their needs, (2) to reduce their student-to-counselor ratio, (3) to partner with community-based organizations and nonprofits, and (4) to address the impact of trauma and racial inequity and create opportunities and spaces for students and families to come together in community and heal.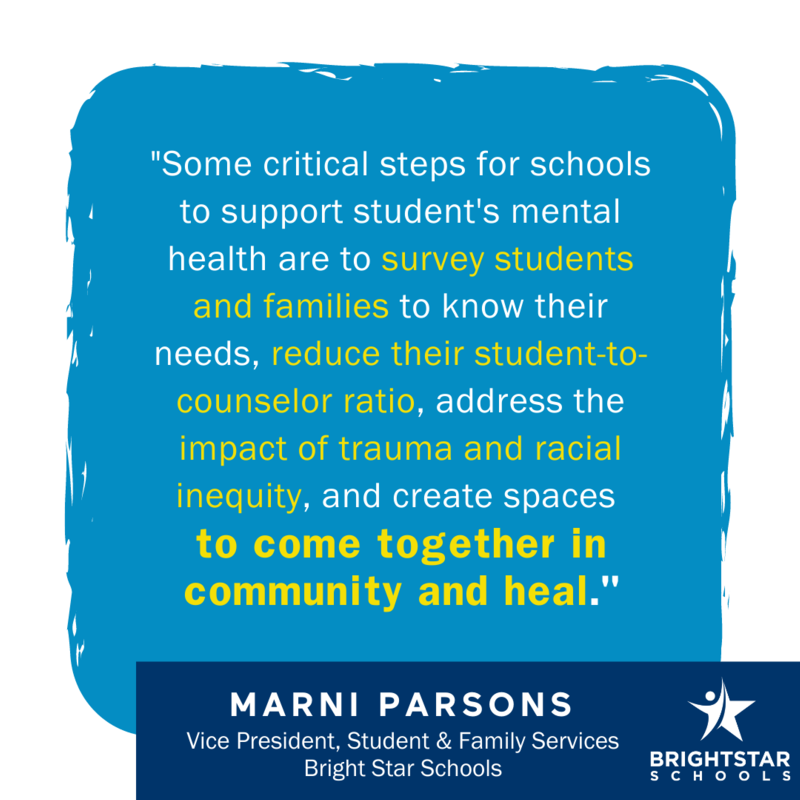 At Bright Star, we survey our families twice a year about their needs (including housing or food insecurity), and we use the Panorama student survey twice a year to assess student needs. We analyze all the information we get from those surveys, and look for intersectionalities. Where are we seeing family needs? What are students' needs? Everything from behavior, to attendance, to students' social emotional strengths, to academic performance gives us a more complete picture of what our students may be experiencing, and we tailor our support accordingly.
For instance, based on the data we're seeing across a school, we may create small group and large group supports. Our counselors also analyze student data so that they can address individual needs. Overall, we look at what story the data tells us about the overall health of a student, and then we provide tiered intervention to meet each student where they are.
For counselors to be able to offer individual support, the student-to-counselor ratio matters. The American School Counselor Association suggests a 250:1 ratio, and I believe even this is too high to effectively meet the social emotional, academic and college and career needs of our students. At Bright Star, our ratio is roughly 120:1, and we keep that ratio as low as we can deliberately. Especially after Covid, schools need to be ready to provide more counseling support for students in all grades.
I recognize that all schools are operating with limited resources, and that's why partnerships with community-based organizations and nonprofits are critical. These organizations can come directly to the school campus and provide resources directly to students and families. Some organizations, like the Matthew Silverman Memorial Foundation, can take students with immediate referrals and connect them with the right programs and groups.
I will note, however, that there are some service provider areas that are under-resourced, and some organizations don't have enough counselors to partner with more schools. Some of our partnerships took over a year for us to build. Continue to ask, continue to advocate for your school and your students, and reach out to and network with whoever you can to provide these critical supports for students.
Additionally, everyone has experienced trauma in the last year, and schools need to address the impact of trauma and racial inequity and create opportunities and spaces for students and families to come together in community and heal. We've all experienced a year of loss and grief on top of ongoing racial inequality and injustice, and we're all dealing with varying degrees of trauma because of it. We can also leverage our collective experiences in relationship building. It's an opportunity to hear everyone's stories and for people to share and process together in person.
At Bright Star, in the fall, we're planning to focus on connection, on ensuring that our students feel heard, that they have a sense of belonging, and that they feel safe at school. The initial relationship building will be our priority because it's foundational for students to be able to learn. Even if you don't open a textbook for the first week of school, you're creating the foundation for students to be ready to learn. The only way we'll be able to accelerate learning for our students is if they feel safe and have strong relationships.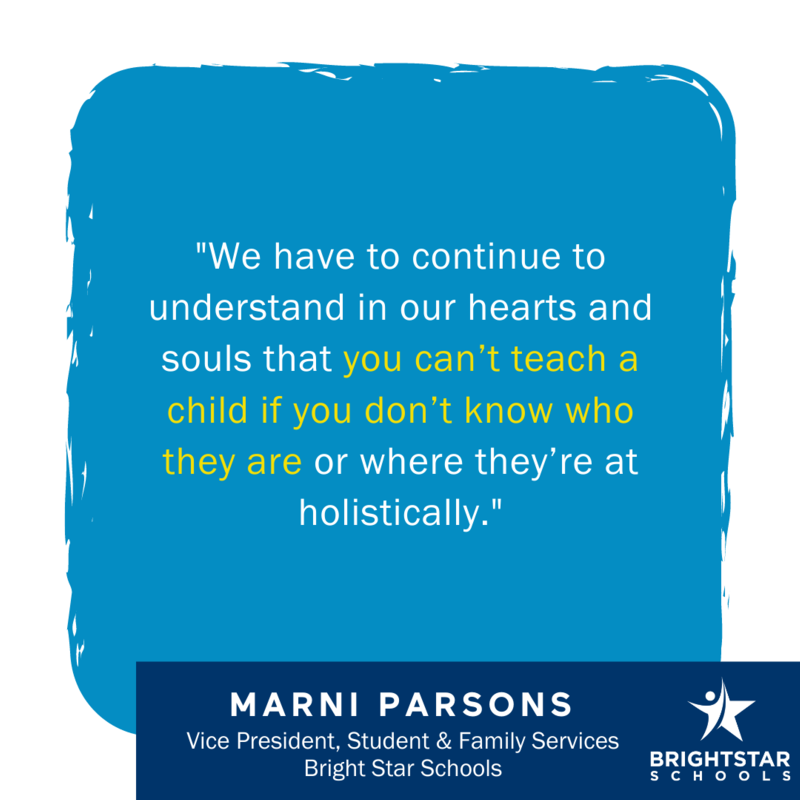 Bright Star: There's been a lot of talk about "learning loss" for all students. How do you balance students' social emotional needs with their academic needs?
Marni Parsons: I've heard the term "learning loss" a lot, and I keep trying to reframe it as "what have students learned?" Yes, they may not have learned as much math or English Language Arts, but what have they learned and how can we leverage it so they can continue to succeed and grow?
We have to meet students where they are as a whole child -- taking into account their mental health, family issues, housing insecurity, food instability, or whatever they may be facing. When we know where they are, then we can meet them there.
In education, people often want everything to be systematized, to have clear documents, checklists, and processes. While we can have strong systems to put supports in place, the quality of relationships with our students cannot be systematized. We have to continue to understand in our hearts and souls that you can't teach a child if you don't know who they are or where they're at holistically.
We won't know for a long time what the lasting impacts of the pandemic will be. But if we focus on people first, and relationships first, we can heal together.