Growing our Impact in Koreatown
Q&A with Dr. Eliza KimLy, Bright Star Schools' Koreatown Head of Schools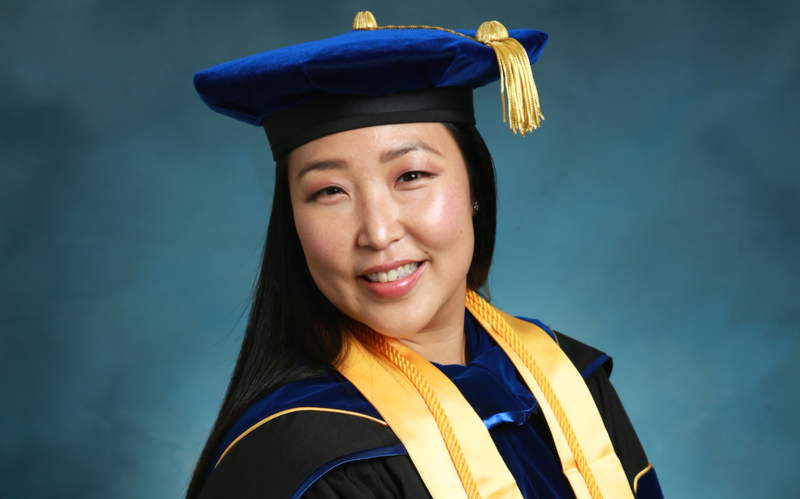 In fall 2019, Bright Star Schools opens our ninth tuition-free public charter school, Rise Kohyang Elementary School in Koreatown! We're currently enrolling transitional kindergarten and kindergarten.
Click here to submit an application or join our mailing list here.
Located near La Fayette Park in Koreatown, Rise Kohyang Elementary School joins our other two schools in the area, Rise Kohyang Middle School (a California Gold Ribbon School) and Rise Kohyang High School (which opened in 2016 and offers AP classes from 9th grade). We're proud that we can now offer families in the community a high quality, kindergarten-through-college education and support for students.

We sat down with our Koreatown Head of Schools, Dr. Eliza KimLy to learn more about our newest school.

BSS: Tell us about Rise Kohyang Elementary School (RKES), Bright Star's newest school! Why is Bright Star opening RKES?
Dr. Eliza KimLy: Part of the vision of Bright Star Schools is to have kindergarten-through-higher-education school models in each of our communities. In Koreatown, with a middle and high school established, it was natural to look into having an elementary school.
For me, I feel like my vision of opening schools of choice in Koreatown -- where I grew up and went to school -- was taken on by the organization. It's not just my initiative. To see Bright Star embrace opening up schools of choice in high-density areas inspires me when I realize it's not just my life's mission to bring schools of choice to the area where I grew up.
Learn more about Rise Kohyang Elementary School.

BSS: Where is the Rise Kohyang Elementary School (RKES) located?
Dr. KimLy: RKES will be located at 600 S. La Fayette Park Place in Koreatown, where our School Support team is headquartered, and across the street from La Fayette Park.

BSS: What will the academic program and enrichments at Rise Kohyang Elementary School (RKES) be like?
Dr. KimLy: At Bright Star, we create leaders who are going to give back to their community in the future. Our goal is for RKES to offer rigorous academic instruction based on Common Core State Standards, and beyond that, our program and our belief in developing the whole child with a social-emotional learning program. It's important to have kids talk about how they feel and how they should treat each other, as our communities are racially and socioeconomically diverse.

BSS: How do students' experiences at Rise Kohyang Elementary School prepare them to thrive in middle school (at Rise Kohyang Middle School or elsewhere), high school, higher education, and beyond?
Dr. KimLy: We'll be able to continue programs where we have high literacy and numeracy so that our students continue to be college-bound. Having a socio-emotional learning program will also be vital.
LA has a history of racial tension and violence, so the idea of developing young minds who can channel their emotions in a fruitful way and talk about challenges growing up in the inner city is a 21st century global skill. It's so necessary because it builds empathy and a growth mindset.
At RKES, we'll have projects where kids work together to share things from different cultures and backgrounds. This is very important to me having an intersectional background and being a product of the '92 Los Angeles Riots. My philosophy is that if you don't break bread on the playground, when will you get another chance to do so? Unless diversity and social justice are values for parents, a child will otherwise have no other opportunity to learn and associate about someone else who is different from them. Schools have a large responsibility to teach about racism and to develop this agency amongst our youth.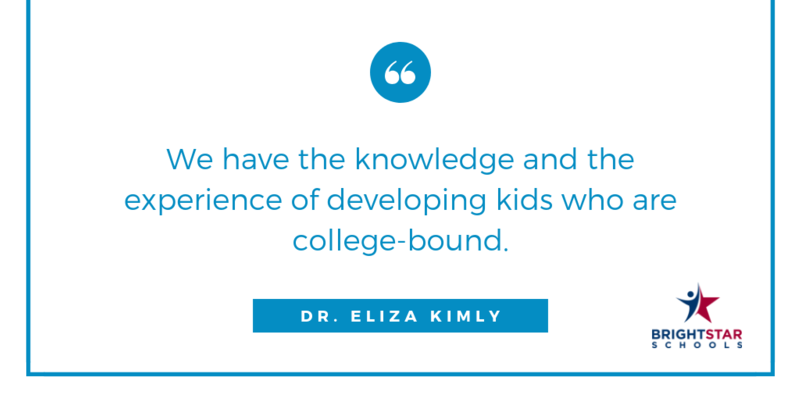 BSS: Why does the kindergarten-through-higher-education model matter?
Dr. KimLy: When Bright Star first opened schools in Los Angeles, the need was so great and apparent at the middle school level. When we founded Stella Middle Charter Academy in 2003, our first school, we added a 5th grade because the kids had so many gaps.
Now, to be able to start in elementary school ensures that families not only have a continuous pipeline of high quality schools, but also that we can bridge achievement gaps across LA. We're getting students at a younger age, which means there's less strain in middle school to catch kids up and get them ready for high school and higher education. This model could be game changing.
Our middle schools could look different than other charter schools across LA, and it will be the impetus for change for our current middle school's programs. Right now, Rise Kohyang Middle School's programs are specific to catching students up in the short amount of time we have (three years). This is not just for high school, but also beyond. If we had incoming students from our elementary school, we could operate different programs because more students will be entering prepared!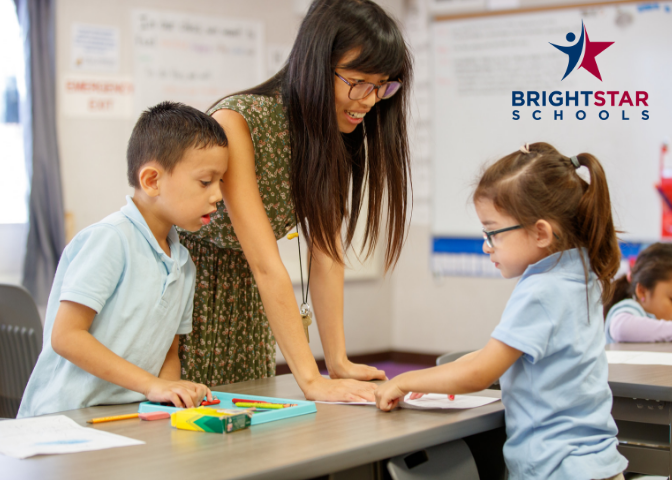 BSS: What makes Rise Kohyang Elementary School (RKES) unique?
Dr. KimLy: What makes RKES different is that we already have the knowledge and the experience of developing kids who are college-bound starting at the middle school level. Now we can bring that programming to the elementary level. Bright Star's hallmark "Life Experience Lessons" expose students to opportunities beyond the classroom and top universities from an early age. Building agency within little minds for social equity and positive self advocacy is part of the formula and vision I have to build new leaders for the future.
RKES will also be a small elementary school, who believes in the development of the whole child. I believe that providing that option for parents in multi-generational families here will elevate schools of choice in Southern California.

Bright Star Schools: Tell us more about you! How did you come to work in education and become the Head of Schools, Koreatown for Bright Star Schools?
Dr. KimLy: I always knew I was going to be a teacher. My mom remembers me making copies of my homework and teaching it to the rest of the kids after school at one of the empty lots in the swapmeet my parents worked at on Slauson. I've always wanted to help as many people as I could.
After college, I applied to be a teacher's assistant at a local school, and I got the job. The work came very naturally to me. The teacher would have me run the class sometimes because I liked it and I was strong in managing students. I met other student teachers there and they taught me about getting a credential. In one year, I got a clear credential and a master's degree from Pepperdine. After that, I came to Bright Star because I could have WiFi and my own overhead projector that I didn't need to check out with the possessive IT people! I needed technology!
From there, my growth has been by promotion, but when I became principal I did it because I knew I had to. As a teacher, I went through seven administrators in five years and it was really hard on everyone. I answered the call to leadership for the students to have one consistent adult from when they first started at SMCA. A few years later, I founded Rise Kohyang Middle School and we opened in 2012. I grew with the organization from the start and became Bright Star's Head of Schools, Koreatown in 2016.
I'm proud to say that our vision has stayed consistent: we are creating leaders and conscious human beings who can give back to the community. To have the opportunity to do that for the duration of a child's educational career is a huge privilege and an honor. We have a larger responsibility to do our work with fervor and fidelity, because there's no excuse if you have a child through all of those grade levels. The opportunity that Bright Star has afforded me will be my legacy and a large stake for my kohyang. I take that seriously.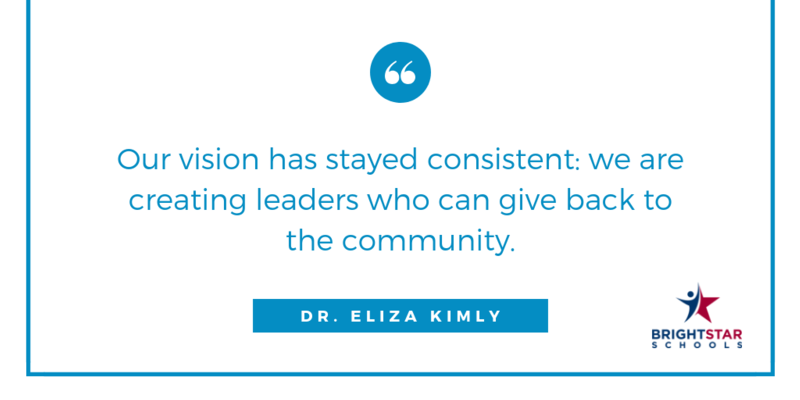 BSS: You also serve as the principal of Rise Kohyang Middle School. How does serving as a school leader influence your role as Head of Schools overseeing Rise Kohyang Elementary School?
Dr. KimLy: It's huge. It influences my work greatly. I've known for a while now that being a principal is as far as I wanted to be removed from the classroom and students. Being a principal and Head of Schools is a lot, but I'm not too concerned just yet. Being a school leader already removes you from the classroom and if I were completely removed from a site, I would not have the innovative ideas or understanding of the challenges for all of our stakeholders. Luckily, our cluster is growing, and Bright Star has accommodated me.
Plus my day-to-day would be so boring! The kids and my staff lift me up. You can't feed unless you're fed and being on a school site feeds me. My coworkers are everything. I want to walk the halls and greet students, talk to parents and teachers -- it's part of my wellness!

BSS: Rise Kohyang Middle School has seen excellent results, including being named a California Gold Ribbon School in two years of its inception. What is your approach to ensuring student success, and what will that look like at Rise Kohyang Elementary School?
Dr. KimLy: Make sure teachers are happy! Have clear expectations, and their input on how to get there. Hiring the best educators that you can, and trusting them, regularly meeting with them, listening to their needs and trying to meet those needs by developing them are my priority, and I'd also say my strengths. And I balance this with what is also best for the school. Rise Kohyang, the school, has it's own identity; and it is also a player. So, I have to manage the people with what's best for our students and families. It's always a balancing, (sometimes) circus act.
On a large scale, it moves incrementally. You just have to make sure it's moving in the right direction with the right people. You have to vision map for your team consistently as teachers can only see their own classrooms, students see day-to-day, and parents see only their child. There's a lot of envisioning of that light at the end of the tunnel for folks, and why we do the hard work we do. You pair that with some jokes, fun times, and share your own vulnerabilities -- that's where trust forms and relationships build. However, there must be a mission and a target for the teamwork.
Urban education is not easy. Bridging the achievement gap can only be done by the most effective and passionate of teachers. To have a school, let alone a network filled with educators who embody the best of teaching at its noblest form is nothing short of a miracle. You have the people, and then it's what you yield with that talent. Have a clear pie in the sky, and help the team get there by any means. Beyond this focus for people and product, I believe having my own instructional expertise, and being an effective teacher who's had high student results are how I can also strategically develop teachers and navigate a school.
When I recruit for our schools I tell parents, "You should send your child to Bright Star because I know we have the best teachers!" I may not have the best facility, but I know that for eight hours a day when you leave