When Bright Star teacher and rapper Carlos Somoza rapped with his students, he kept coming back to a line he wrote: "The youth are the future, plant seeds watch them grow, nurture them with love 'cause you reap what you sow."

Now, as the head of Valor Academy Elementary School's garden and cooking program, Carlos laughs at the connection with his music. "I used to rap about planting seeds, and now I'm actually planting seeds," he says.

At Valor Elementary, Carlos has established a school garden, a program and curriculum for students, and recently received a $500 grant from Gro More Good Grassroots to expand it.

"We've established a seed-to-table philosophy at Valor Elementary," Carlos explains. "We want our students to know and see where food comes from, to plant the seeds, and then to be a part of harvesting and cooking food from our garden."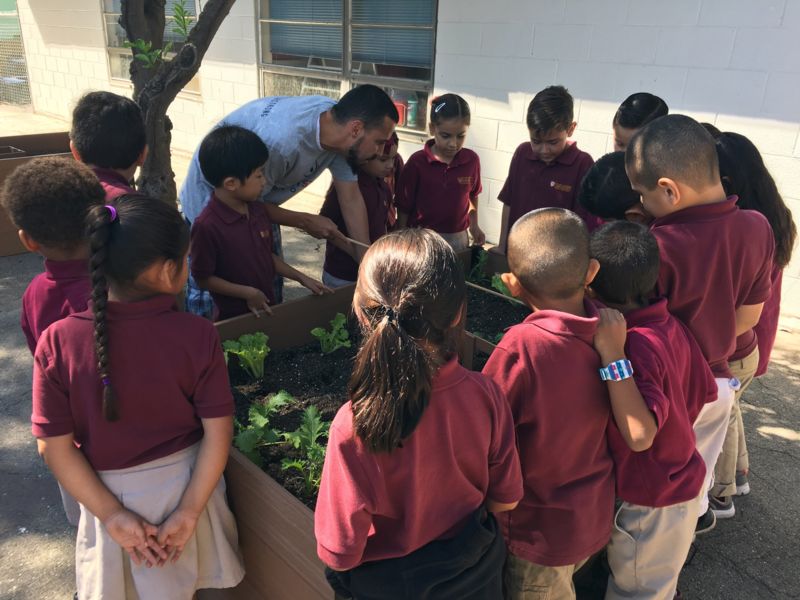 Carlos Somoza teaching his students about the Valor Academy Elementary School garden.

As the majority of Bright Star students are growing up in communities that have limited healthy food options, the garden is especially critical. "Our kids are living in food deserts, and there aren't a lot of options to eat that aren't fast food. Our seed-to-table program shows our students how to grow oranges, apples, Swiss chard, and a lot more, and then what you can make with those," Carlos says.

There are three garden areas at Valor Academy Elementary School, with 5 raised planter beds as well as orange trees. The gardens are in prominent areas of the campus so that the students see them and walk by them frequently.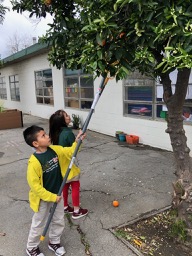 In the planter beds, which contain about 20 cubic yards of soil, Carlos and his students have planted flowers, lettuce, green peppers, Swiss chard, tomatoes, broccoli, cauliflower, Romanesco broccoli, onions, Chinese cabbage, cilantro, lemongrass, chives, thyme, and more. Last year, the students harvested the ingredients for fresh salsa and then made it together.


Carlos also shares monthly harvests with the school's families, leaving fresh produce in the school's main office for people to take home. When he harvested the Swiss chard, he also left out copies of three different recipes to help families learn how to cook it.

In addition, Carlos has created a California native garden with a "cacti corner" to teach students about native plants, and will install wood chips around the gardens to transform blacktop into an immersive, earthy experience. With the grant money, he plans to expand his garden vision and also create a hanging wall garden.

There's also what Carlos calls an "experimental garden," where he and his students threw out a bunch of seeds to see what would happen. He emphasizes the importance of his students' learning, as well as his own.

"I'd never have described myself as someone with a green thumb, but one thing I've learned is that, 'you don't need a green thumb, you just need dirty knees,'" he says.

At the University of Santa Cruz's Life Lab, Carlos participated in an intensive multi-day training to establish a curriculum that is aligned with Next Generation Science Standards and enables students to learn science through the garden. And Carlos is continuing to learn; when his plants began to flower, Carlos learned about harvest timing with support from YouTube.

While he masters the technical aspects of gardening, Carlos keeps his focus on the community culture that a garden builds. "We have bright, colorful signs in our gardens so our students know what we're growing, and we also have signs with our school's values in the garden too," he says. "We want to build a sense of community through our garden."