Bright Star's Teacher of the Year!
FOR IMMEDIATE RELEASE
March 14, 2019
BRIGHT STAR SCHOOLS' HIGH-PERFORMING SCIENCE TEACHER NAMED CHARTER SCHOOL TEACHER OF THE YEAR
California Charter Schools Association Awards 2019 Hart Vision Award to
High School Science Teacher Ms. Yogeshwari Patel

LOS ANGELES, CA -- Today, Bright Star Schools, a network of eight high-performing, tuition-free public charter schools across three communities in Los Angeles, announced that high school science teacher Yogeshwari Patel has been named Charter School Teacher of the Year by the California Charter Schools Association (CCSA) and awarded the 2019 Hart Vision Award.
Ms. Patel was recognized today at the 26th Annual California Charter Schools Conference in Sacramento for her achievement in supporting 100 percent of her students to pass the 2018 Advanced Placement biology exam. All of Ms. Patel's students are growing up in an under-resourced community and nearly all will be first-generation college students.
"All students are capable of achieving at high levels when you have trust, clear expectations and individualized support in place. In over a decade of teaching at Bright Star Schools, I have been able to support my students to excel because Bright Star supports me to thrive," said Yogeshwari Patel, a high school science teacher at Bright Star Schools' Valor Academy High School.
"I'm honored to receive the 2019 Hart Vision Award, and I would like to thank everyone at Bright Star Schools for the support and trust they have provided me throughout the years. I would like to also thank my family whose unconditional love, support and time has allowed me to work at my best potential," she said.
Congratulate Ms. Patel! Click here to write her a note.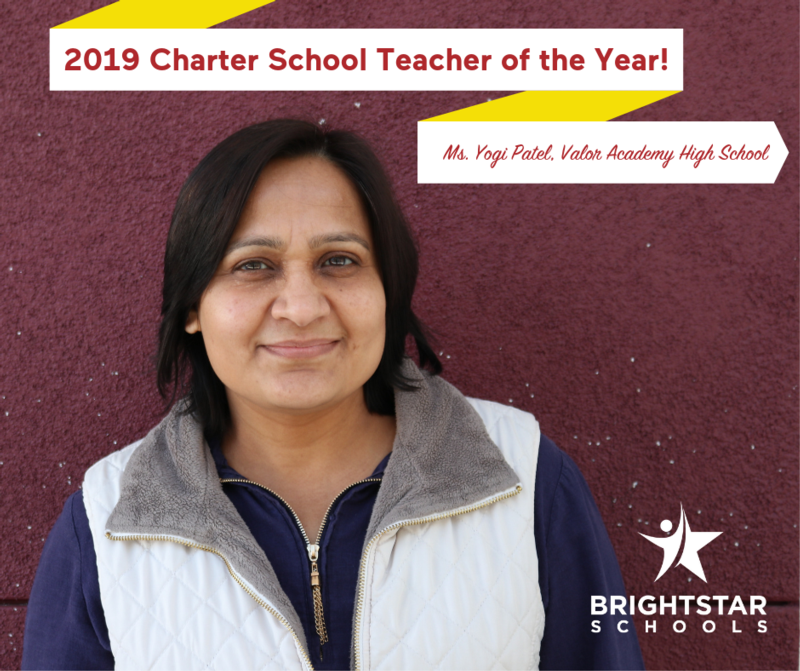 Named in honor of Gary K. Hart, retired California State Senator and former California Secretary of Education who sponsored the legislation that established California charter schools, the Hart Vision Awards recognize individuals and schools that have made significant contributions to CCSA's mission to increase student achievement by supporting and expanding California's quality charter public school movement.
"Yogeshwari Patel is an outstanding educator who is laser-focused on our students' success. She believes deeply that every student can succeed and supports her students tirelessly to ensure they meet high expectations to thrive in school, higher education, career, and life," said Hrag Hamalian, Executive Director of Bright Star Schools. "As a National Board Certified and veteran educator, Yogi leads by example and also helps support other Bright Star teachers to excel in their craft."
Ms. Patel, a National Board Certified teacher, is now in her 11th year as a teacher at Bright Star Schools. She is also a recipient of National Board Certification scholarship given by Bright Star Schools.
# # #
About Bright Star Schools
In eight, tuition-free public charter schools across three communities in Los Angeles (West Adams/Baldwin Village, Koreatown, and the San Fernando Valley), Bright Star Schools' 3,000+ students experience rigorous academics, inclusive education, social-emotional support, and rich life opportunities beyond the classroom from transitional kindergarten through 12th grade.
More information is available at www.brightstarschools.org.
DOWNLOAD THIS PRESS RELEASE